Walking tours in London
Join us on a walking tour of London with a guide. Would you like to feel the atmosphere of London? What could be better than a walking tour, visiting the most interesting places of the city?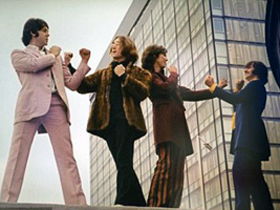 Neighbourhoods not usually ventured into on a panoramic tour will be discovered. Every neighbourhood has its own unique atmosphere and of course centuries-old history. On a variety of routes, arranged by Pearl of Albion, (see Unusual London Tours), you will for example be able to walk in the footsteps of Sherlock Holmes, Sir Winston Churchill and see the house on which roof the famous Beatles were filmed giving their last concert. We sample the most interesting pubs, see the city magnificently illuminated at night and much more. We offer routes in both daytime and evening.
Individual walking tours can be arranged with professional guides paying particular attention to your needs, making stops en route for refreshments as required. All tours by Pearl of Albion are conducted by professional guides. We offer group and individual walking tours tailored according to your preference through the streets and parks of London.
Listed below are our walking tours of London. In addition, we offer walks to the most unusual places in London bypassing standard itineraries. Choose a tour that interests you and order by phone or e-mail. Or call us on Skype directly from this site. Our managers will be happy to design a tour especially for you! To check any information about our walking tours of London, sightseeing tours and guides, call us, we're waiting for you!
Walking tours of London:
Westminster Walk (3.5 hours)
Here where historical and political centres of London meet we might come face to face with British politicians. Starting at Trafalgar Square in the heart of London this walk will take us past the home of the Prime Minister since 1721, No.10 Downing Street. Roles of the monarchy will be unveiled at The Palace of Westminster, where also Parliament, the heart of British democracy resides.Westminster Abbey adjacent is where monarchs have been crowned since the 14th century.
Greenwich (4 hours)
Let's take a fascinating journey into the history of British seafaring and navigation. We can stand on two hemispheres of the earth at the same time at the Royal Observatory where we can check our watches at the most precise clock in the world. We'll enjoy magnificient architecture and painting at the Old Royal Naval College. Here we'll discover the impact the Tudor dynasty had at a palace called 'Pleasaunce' and all this against the backdrop of the beautiful Royal Greenwich Park.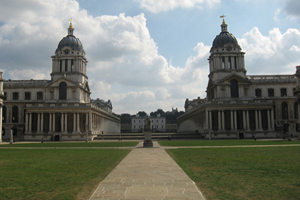 City of London Tour (3.5 hours)
Foundations for the City of London, one square mile in area were laid by the Romans in 43 AD, surrounded by a wall and called Londinium. Today a centre of business and finance neighbours the remains of this Roman civilization with architectural masterpieces from following centuries. Modern architecture such as Norman Foster's "Gherkin" as townsfolk affectionately nickname 30 St. Mary Axe (above) also grace the area. We will explain the history of the Guild system in operation since medieval times at Guildhall. Also we visit nearby Sir Christopher Wren's baroque masterpiece, St Paul's Cathedral consecrated in 1708.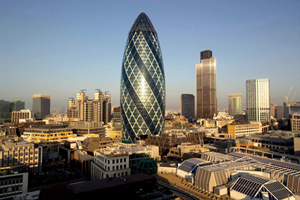 Hyde Park (3.5 hours)
Enjoy the splendour of this world famous Royal Park with many important historical monuments and architectural masterpieces; famous in literature and steeped in unusual stories. We'll look at Princess Diana's memorial water feature designed by Kathryn Gustafson and built at a cost of £3.6 million and we'll walk through the gardens and historic interiors of Kensington Palace, birthplace of Queen Victoria, still partly inhabited.
Shakespeare's Southwark (3.5 hours)
Feel the atmosphere that inspired Shakespeare's plays and join us in a stroll along the South Bank of the River Thames.
We'll enjoy the ambiance of this area, rich in history from Roman times. On this tour we see The Globe Theatre near where Shakespeare's plays were performed and a wonder of contemporary design the Millennium Bridge by Fosters and partners. Here we'll view architect, Sir Christopher Wren's masterpiece, St Paul's Cathedral, competed in 1708.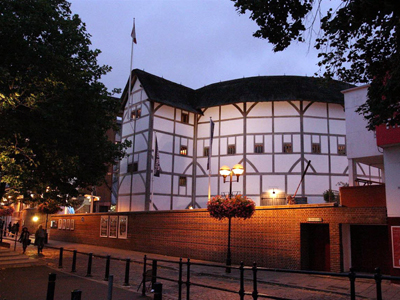 Pub walk. Bringing London's history alive (3.5 hours)
Visit a few pubs in London and feel the history of this vibrant city on a fascinating journey within the old walls of the City of London. We'll hear many ghost stories as we enter the oldest, most eccentric and unusual pubs in London and learn about the nectar of the Gods, English Ale.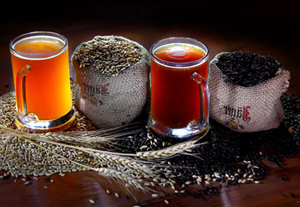 In the footsteps of the Beatles (5 hours)
We journey through the most iconic places in London associated with the evolution and development of the legendary Beatles and it's individual members from inception to the present day. We'll take photos on the famous Abbey Road zebra crossing, see the building on which roof the last concert of the band took place and much more.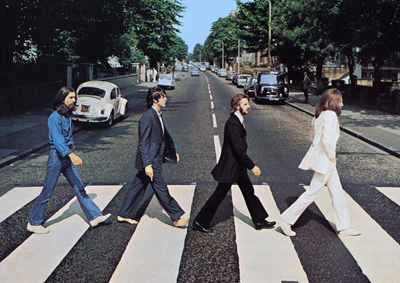 An evening walk in London (3 hours)
London in the evening looks very different! We begin our exciting journey at the Tower of London and proceed along the south bank of the River Thames through the City of London. We'll see at night a magical world and discover some of London's best kept secrets.
A walk through the bohemian district of Soho (3 hours)
Let's delve into the atmosphere of the most fun-filled area of London which has attracted over the years politicians, writers , artists, mobsters and the most extraordinary personalities. Numerous pubs, theatres, and nightclubs gained for Soho a reputation as an entertaining area of the city, where life rages night and day.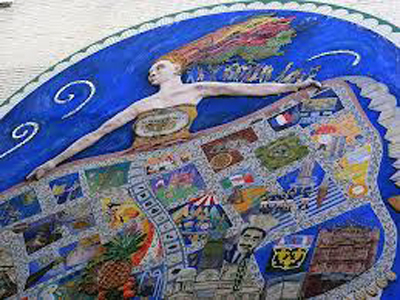 Churchill's War Rooms (3 hours)
Located in a central part of London under The Old Treasury we find The Cabinet War Rooms where Sir Winston Churchill, British Prime Minister during the dark days of the Second World War mustered Britain's defences and ultimately brought victory. Amazing facts and stories about his life and relationship with the outside world are relived here. A must for military historians!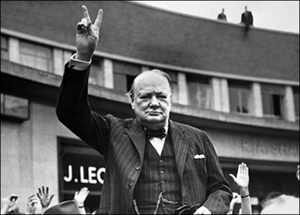 In the footsteps of Sherlock Holmes (3 hours)
This fascinating tour will help you experience the atmosphere of London during the reign of Queen Victoria. We'll go to places in Marylebone where Sherlock Holmes walked as written in stories by Sir Arthur Conan Doyle. We'll visit the museum of the legendary detective at Baker Street and see amazing collections of items used to collect evidence from 19th century.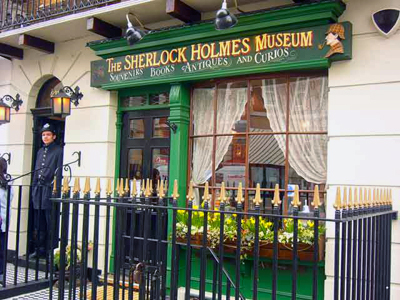 British Tours and Excursions: